Next Formula
TRG114 is newly developed based on narrow design at high competitive level with our dedication and passion for ideal F1
Narrow chassis design allow to fit many type of body in the market.

Dual roll shock
Narrow and LCG
Pivot position
FRP side bar
Battery type

---

Sus bush
Motor mount
Dual steering arm
Team PRIME shock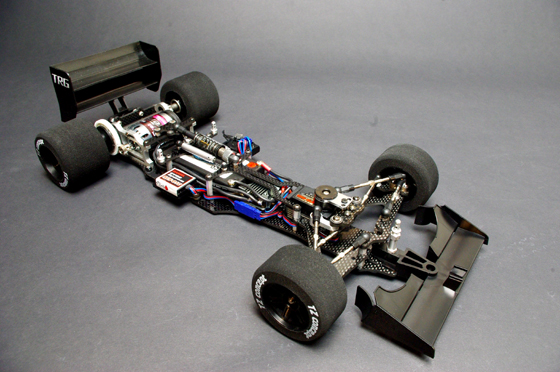 New concept -TRG114 conversion
-Newly developed dual steering arm system
-Internal spring for roll tube shock performs even better stability
-Updated front suspension arm with bush for better steering response
-Most of the carbon parts are updated and redesigned for TRG114 concept
-New 2.4mm main chassis
-New black side bar improves rear traction and better durability
-Wide(200mm width) or narrow(180mm width) version are available for market demands

●Dual roll shock
Dual rear roll shock
The friction tube type shock allow fine tuning and setups simply by applying the different type(viscosity) of the grease (oil)

Newly designed dual roll shock piston performs more precise and flexible with both ends O-ring for less leaking

New roll spring are added for better roll control aggressively and can be adjusted the clearance by turning the shock case easily

* Included roll spring is soft type
* Hard type roll spring will be an option

Dual rear roll shock makes the car stable at any condition of cornering, rolling and pitching movement effectively

Precise roll controls and effects are principle and required to influence the better performance specially for narrow designed chassis
Ball guide system meets these demands and redesigned positions of components achieve even better effects and accurate functions.
TOP↑

●Narrow and LCG(low center of gravity) chassis
LCG possibility
Upper plate can be lowered 6mm with using short Lipo/19mm height battery which make even more LCG and improve the potencial of the car.
Short Lipo/25mm height battery also can be mounted.
TOP↑

●Pivot position
Pivot position
The combination of narrow chassis and high pivot position make the potencial limit much higher than ever resulting the traction contorol much easier for the driver as well as more benefit by driving.
Low pivot position performs better on very low grip condition.
TRG114 allow to adapt low pivot position easily as option.
TOP↑

●FRP side bar rear suspention
Benefit of side bar
Heritagelly develped since TRG109, 111, 112 and TRG114, new USA black FRP side bar system makes the F1 chassis to have ideal mechanical grip and traction.
Simply can change the charactoristic of the side bar functionaly by different way of connecting and O-ring.
Additionally, different type of side bar(thickness, material) can be used to suit for any kind of conditions.
TOP↑

●Battery
Battery
Short Lipo/19mm and 25mm height, 1 cell Lipo, conventional 2cell Lipo/2cell LiFe battery cab be used
It can be lowered by 6mm over from an upper plate with short Lipo/19mm which have a huge advantage of performance.

With Conventional 2cell Lipo or 2cell LiFe, a receiver or the ESC can be mount on both sides with radio plate.
The radio plate can be adjusted back and forth.
TOP↑

●Suspention arm bush
Supention arm bush
New front low suspensiton arm is added with new bush which make the car for better steering response
TOP↑

●Motor mount
Hybrid motor mount V2

Innovative Hybrid motor mount V2 come with TRG114 as standard
Lightweight Aluminum 7075 T6 motor mount left and right together with carbon rear plate for high durability

Reduction of the spring lower load of the rear suspension and a low center of gravity improve drivability and performance

Cooling fan for motor can be mounted on left motor mount

New design 3mm thickness carbon rear plate
Rear wing height can be changed to 6 positions

* Previous type pf TRG motor mount also can be mounted

Redesigned carbon front plate for avoiding the motor terminal and it can be used for TRG112 as well

8 kinds of ride height adapter (TRG5113) is included


TOP↑

●Dual steering arm system
Dual steering arm system

An ideal steering linkage is achieved and having less Ackerman changes
Steering characteristic becomes smooth and controllable
* This dual steering arm system will be released as option for Tamiya F103,F104,TRF101 and others

Servo mounting option
Optionally it can be mounted lay-down way for standard low height servo as well as the servo mounting system from TRG112
TOP↑

●Team PRIME shock
Team PRIME pitching shock

Compact and light weight design
Easy setup adjustments and constant performances
Oiled shock with rubber cap in aluminum shock case
Durable Teflon coating shock case and Titanium coating shock rod performs even smoother and long life
This comes with as standard in this set thanks to the cooperation with Team PRIME
TOP↑

Tools
Phillips driver (large/small)
Hexagon wrench (1.5mm)
Box wrench (5.0/5.5/7.0mm) and others

Not included parts detail
●Ball bearing, ●steering linkages, ●servo saver, ●rear axle,
●differential unit, ●gears(spur and pinion), ●body, ●tire, ●wheel,
●front andrear wing, ●radio equipments, ●Front spring ,●motor and others.